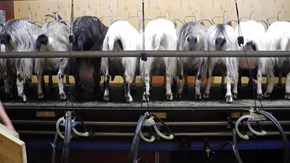 Cheese is the main product from Swedish dairy goats. Photo: Ylva Persson/SVA
Important diseases in the dairy goat
Mastitis is therefore one of the most important diseases in the dairy goat. Subclinical mastitis is rather common, coagulase negative staphylococci being the most common pathogens. Nevertheless, compared to many other countries, Swedish goats have a good general udder health with low somatic cell counts. 
Additional infectious diseases
Clostridiosis, listeriosis, mycoplasmosis, orf and pseudotuberculosis are additional infectious diseases present in Swedish goat herds. Although infectious, clostridiosis and listeriosis have mainly a dietary origin. Furthermore, endo- and ectoparasites are of concern for goat owners in Sweden. Scrapie and CAE are supervised in national control and surveillance programs.
Swedish goats are free from scrapie, paratuberculosis, bluetongue and many other emerging diseases.